ABOUT THE CITY
Odesa, russian name - Odessa, (official site, in russian only - the city portal and city information site) is the third by size city of Ukraine with over 1 million citizens. It is situated on the Black Sea coast. Each year many thousands of tourists visit the city. The city has a mild and dry climate with average temperatures in July of 22°C (72°F), though periods of a hot weather are possible in July.
Odesa International Airport (at the moment, its site is available in russian only) is served by major airline carriers (look for a list in Wikipedia), including Aerosvit, Ukraine International, Austrian Airlines, El Al, and Turkish Airlines. These and other airlines provide flights to numerous locations in Europe and Asia. Passenger trains connect Odesa with Warsaw, Prague, Bratislava, Vienna, Berlin, Moscow, St.-Petersburg, the cities of Ukraine and many other cities of the former USSR. Intercity bus services are available from Odesa to many cities in Germany (Berlin, Hamburg and Munich), Greece (Thessaloniki and Athens), Bulgaria (Varna and Sofia) and several cities of Ukraine and Europe. Passenger ships and ferries connect Odesa with Istanbul, Haifa, and Varna.
VISA
At the moment, no visa is required for citizens of USA, EU and the NIS countries.
ROUTE: THE RAILWAY STATION - THE "VALENTINA" HOTEL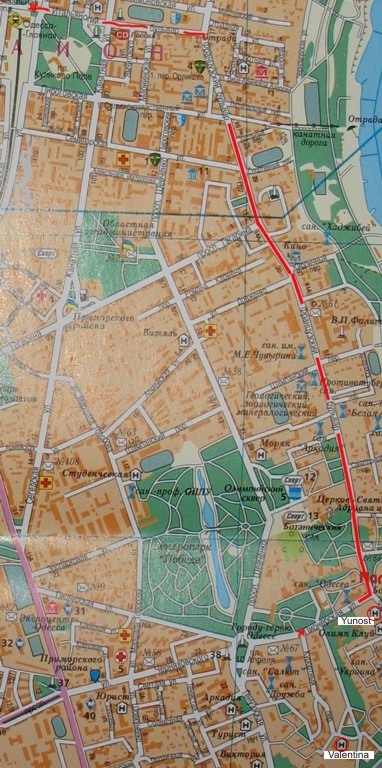 Tram No.5 directly connects the Railway Station (top of the map fragment) and the two consecutive tram stops: "Sanatoriy Rossiya" near the "Yunost", and "Mezhreisovaya baza moryakov" near the "Valentina" hotel. "Yunost" is seen from the near tram station; its address is Pionerskaya street, 32. To reach "Valentina" from the nearest tram station, one should walk a hundred meters forward and, under the pointer, turn left; its address is Kurortny per., 2.
More detailed explanation (in Russian) you might find here.
An Odesa city map fragment with English captions you might find here.
During 28 June and morning 29 June there will be someone from the Organizing Committee at the railway station, meeting our participants.
ROUTES ABOUT "EKOLOG" DORMITORY
From the Railway station to the dormitory (Lvovskaya str. 15): route bus-taxi No.150, travelling to the stop "7 st. Lyustdorfskoi dorogi".
From the dormitory to the "Valentina" hotel: route bus-taxi No.146, to the stop "Ploschad' 10 aprelya".
Last update: June 24 2009.